The CEO of Createrna was selected into the list of outstanding leaders in the health technology field
Release Date

2023-01-12

Publisher

Createrna
The Healthcare Technology Report's Top Leaders in the health technology industry in Washington, D.C. In Beijing time on January 10th release (thehealthcaretechnologyreport.com/the-top-25-healthcare-technology-leaders-of-dc-for-2023/). The ranking list total 25 health science and technology industry leaders, once the issue has caused heated debate, and was famous website CISION PRWeb reproduced on January 11 (www.prweb.com/releases/2023/1/prweb19103276.htm).
Among the 25 outstanding leaders honored were ceos, COO, CTO, or vice presidents. Dr. Yaning Wang, CEO of Createrna, was selected and given special coverage along with Vince Proffitt, CEO of Spartan Medical, and Bruce Lichorowic, CEO of Galen Robotics, as the three most outstanding leaders and the companies they lead.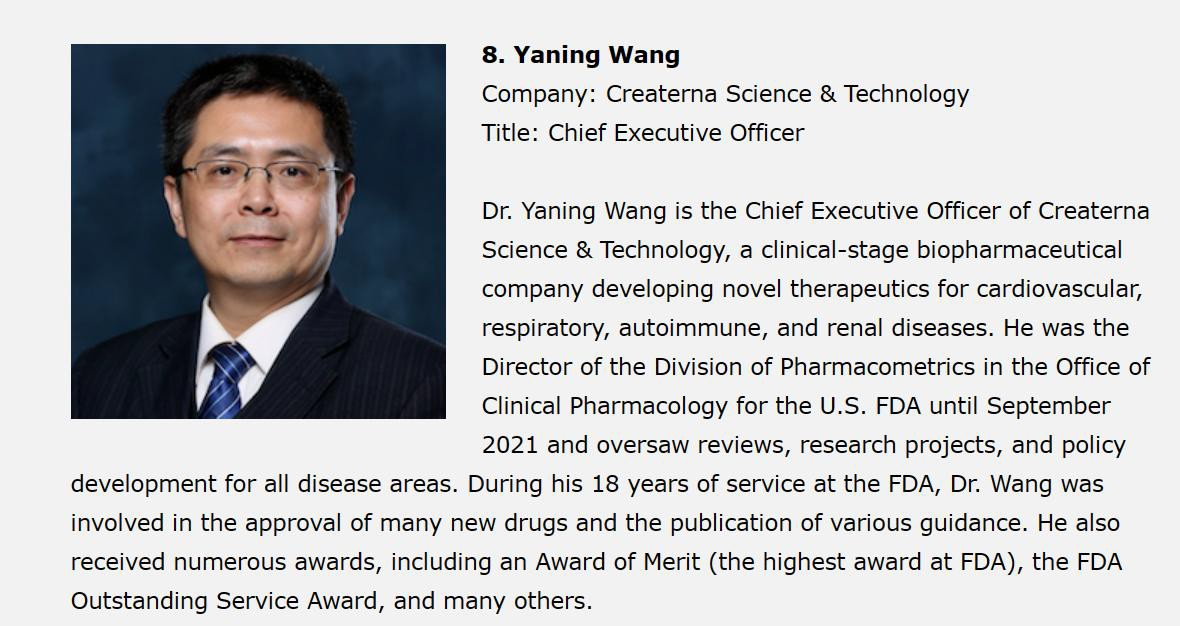 Dr. Wang Yaning was selected as an excellent leader in the field of health science and technology
Dr. Yaning Wang previously served as Director of the Division of Quantitative Pharmacology in the Office of Clinical Pharmacology at the U.S. Food and Drug Administration (FDA), where he was involved in new drug marketing reviews, program studies, and policy development in all disease areas. Dr. Yaning Wang became Chief Executive Officer in September 2021 and his team is developing novel therapies for treating high unmet medical needs. Thanks to the influence of Dr. Wang Yaning, his team has added a number of Chinese American scientists with rich clinical experience, so that Createrna has a senior management team with rich knowledge of multinational drug companies and global clinical trials, and Createrna has successfully completed the transformation from a Chinese localized drug research and development enterprise to an international top innovative drug research and development enterprise.
As a new generation of innovative drug research and development company, Createrna has been adhering to the industry philosophy of solving major medical problems of mankind and benefiting patients around the world, focusing on autoimmune, cardiovascular, respiratory, kidney, pain and other diseases. But the research and development of innovative drugs is also full of unknown difficulties and uncertainties, need to overcome numerous technical problems. Dr. Wang Yaning's expertise in quantitative pharmacology has filled the technical gap of the company and provided strong technical support for clinical trials at all stages of the project. At the same time, its years of supervision experience and international perspective provide the company with new ideas to solve problems. Excellent professional knowledge, rigorous leadership style and noble personality charm are Dr. Wang Yaning's personal heritage, but also the valuable wealth of Createrna. Currently, there are more than 10 innovative drug research projects of Createrna. Under the leadership of Dr. Yaning Wang, 8 drugs have successfully entered clinical trials. QR12000 and QR052107B have successfully entered phase II clinical trials in 2022.
Createrna combines business development (BD business) with innovation in drug research and development, creating a "clinical medicine as the center, research and marketing integrated" business management model. Clinical trials drive the advance of non-clinical projects in the early stage, and commercial overall design drives the rapid development of the company's overall plate. Thanks to the unremitting efforts of Dr. Wang Yaning and his team, the communication bridge between Createrna and large international companies has been established, which has promoted the rapid development of BD business. Up to now, the company has reached cooperation intention with a number of international well-known pharmaceutical enterprises, and signed Term Sheet(TS) with a number of overseas enterprises.
Rich work experience and outstanding personal ability are the indispensable cornerstone for Dr. Wang Yaning to be elected as this excellent leader. Meanwhile, the steady development of Createrna also provides strong evidence for Dr. Wang Yaning to be awarded this award. " Sharp sword from the sharpening out, plum blossom incense from the cold weather ", Dr. Wang Yaning Createrna, after many hardships, to smell the fragrance of plum. It is believed that Createrna led by Dr. Wang Yaning will surely make new achievements and make new breakthroughs in the New Year!